by kath on Jul.02, 2008, under pottery
I'm back… and, now Turtle Pottery has its own studio.  As some may have noticed, Turtle Pottery has been quiet since last summer.  No shows, no sales, no blog entries.  Well, that's what a full time teaching job will do to your creative time. But, it's summer and I've been breaking in my new wheel. The kiln has arrived. And, by summer's end, I hope to have my first batch of Turtle Pottery studio pieces to show for it.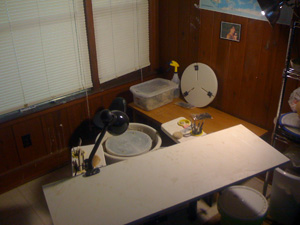 I am grateful to Melissa Bridgman for the two years that she shared her studio and talents with me, allowing me to use her wheel anytime as well as offering me storage, glazing, and kiln space, and shared shows.  Turtle Pottery would not exist without her support.
:bridgman, pottery, studio